Record number of RNLI rescues in the North East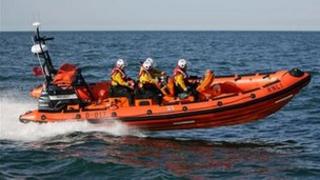 A record number of people were rescued in the north-east of England in 2011, according to figures from the Royal National Lifeboat Institution (RNLI).
A total of 1,237 people were helped, an increase of 3% on the previous high recorded in 2003.
The busiest lifeboat crew was in Sunderland, who launched their two inshore lifeboats 111 times and rescued 135 people.
Hartlepool crews rescued 112 people from the sea during the year.
Divisional inspector Andy Clift thanked volunteers for their "dedication".
The 1,270 lifeboat launches from the north's 33 lifeboat stations in 2011 was the second highest number in the history of the charity.
Mr Clift said: "In all, 1,237 people were helped in some way by our lifeboat crews in the north of England and I am sure they and their friends and family will join me in thanking our volunteers for the dedication they demonstrate time and time again to saving lives at sea."
Tynemouth also had a high number of rescues with 74 launches and 117 rescues.
The busiest year for RNLI lifeboats was in 2009 when the charity launched lifeboats 1,288 times in the north of England.