Pern the police horse retires after 16 years of service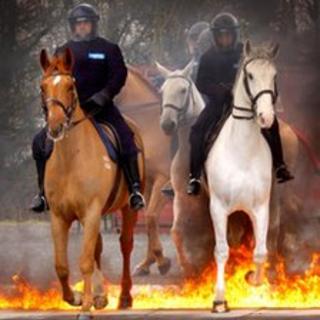 A long-serving Northumbria Police horse is retiring from the force after 16 years of work.
Pern, a chestnut gelding, has policed demonstrations, football matches and royal visits during his career.
He now suffers from arthritis and will leave the force next week to spend his retirement at The Horse Trust in Buckinghamshire.
Sgt Andy Cross said Pern, who started work aged four, had been a "fantastic police horse".
"He thoroughly enjoyed his job and just came alive when he went to work. As soon as he went out on patrol his ears would prick up.
"He is absolutely fearless and reliable and over the years he has been responsible for helping to train many of the younger, inexperienced horses.
"A police horse has a very demanding job and sadly Pern's old bones can't stand up to the rigours of fours hours a day out patrolling any more."