'Jelly bean' mould found at Castle Eden Nature Reserve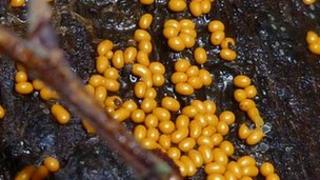 One of Britain's most rare "slime moulds" has been found at a County Durham nature reserve.
It is thought to be the first time the organism, which has reproductive blooms resembling tiny yellow jelly beans, has been identified in the North East.
Slime moulds have the characteristics of both animals and plants and this one is so rare that it is only known by its scientific name, badhamia foliicola.
The find was made by a visitor to the nature reserve at Castle Eden Dene.
The Association of British Fungus Groups only knows of 24 records of this species in the UK since 1965, with no previous sightings from north-east England.
Before this, the most recent new finding was in Kent in 2006.
Joe Davies, of Natural England's Castle Eden Dene NNR, said: "The discovery underlines the Dene's role as a natural treasure house for a wealth of wildlife, which ranges from the tiniest fungi to huge and ancient yew trees."