Super Gran prop find in North Tyneside prompts appeal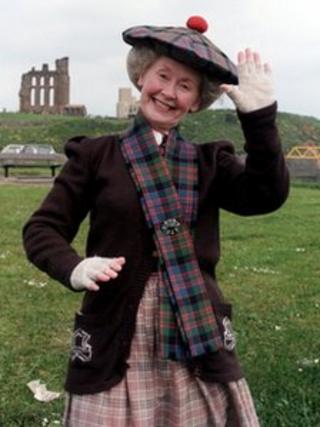 A prop from a children's television show which broadcast its last episode nearly 25 years ago, has sparked a search for memorabilia in the north-east of England.
The piece from the show Super Gran was discovered in a shop in The Land of Green Ginger Shopping Arcade in Tynemouth.
The air-conditioning prop from Inventor Black's laboratory had been forgotten about but now organisers of a special 25th anniversary event want people in the North East to come forward with their own memories and props from the show.
Some former viewers of the children's programme have already come forward with items such as the kilt and jacket worn by Billy Connolly who performed the show's theme tune.
Pete Warne, North Tyneside Council's tourism and events manager, said: "Since the series had a strong connection with North Tyneside we felt its anniversary was something that we should try to celebrate.
"It obviously gave Tynemouth national exposure and it had something for everybody.
"The people who saw it the first time round can now bring their kids to see it."
'Time for a remake'
To mark Super Gran's 25th anniversary, the Playhouse Whitley Bay is displaying photographs and memorabilia, showing a special screening of the programme on 24 February and a documentary showing how it was made.
The TV series set in the fictional village of Chisleton was filmed in Tynemouth and broadcast between 1985 and 1987.
Starring Gudrun Ure as Super Gran and Iain Cuthbertson as her arch enemy Scunner Campbell, it also featured guest stars such as Spike Milligan, George Best, Geoff Capes and Tim Healy.
Inventor Black's laboratory, designed and built by Ash Wilkinson, was set in an empty church on Front Street, which is now The Land of Green Ginger Shopping Arcade.
Mr Wilkinson said: "We used many locations in the area from Whitley Bay to Beamish and Tynemouth Priory to Newcastle's Swing Bridge.
"We had use of an old warehouse in North Shields where we built the sets. It was fine until it rained - water falling on the corrugated roof was like a drum roll and completely drowned out the actors.
"It was a great project to work on and I remember the vast range of guest stars really enjoying the warmth and generosity of the area.
"Maybe it's about time for a remake."