Cleaners demand free travel on Tyne and Wear Metro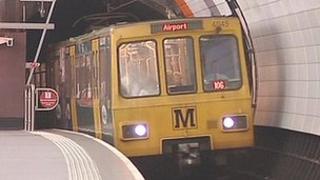 Cleaners who work on the Tyne and Wear Metro are taking part in a protest as part of a campaign to win free travel on the light railway network.
Union bosses representing 64 contract staff say they should receive the same privileges as other Metro workers.
A delegation is lobbying a meeting of councillors in Newcastle in an effort to win support.
Metro operator DB Regio said it would be unaffordable to give all contract staff free travel.
The workers, who the RMT union says earn the minimum wage of £6.08 an hour, work for Hertfordhsire-based Churchill Contract Services.
Simon Wrenn, operations director at Churchill Services said: "Obviously, we would like to give our staff free Metro travel but Churchill don't have the power to do this - this is something that needs to be agreed between Nexus and its contractors."
Nexus, which owns and manages the network, said: "It would be inappropriate for us to comment as this concerns the terms and conditions of employees of another company."
A meeting of the Tyne and Wear Integrated Transport Authority (ITA) in Newcastle is being asked to back the union's claim.
'Treated fairly'
RMT general secretary Bob Crow said: "It wouldn't cost the transport authority a penny piece to end this injustice.
"The Tyne and Wear ITA has a moral responsibility to ensure that all workers who help keep the Metro running are treated fairly, and it is ludicrous that the lowest-paid staff are expected to pay to gain access to their own workplace."
An ITA spokesman said: "This is a matter between employer and employees and nothing to do with this authority or any local council."
A spokeswoman for DB Regio: "There are many independent companies employing hundreds of contractors and consultants involved in the delivery and modernisation of Metro.
"It would be unrealistic and unaffordable for Metro to provide free travel to everyone connected with it in this way."