South pole student Bryony Balen: Trek 'consumed life'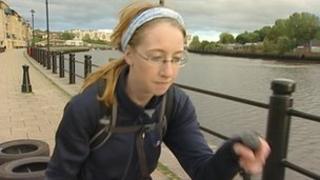 Dragging a linked-together set of tyres along Newcastle's Quayside was just one of the gruelling training sessions that prepared Bryony Balen for her record-breaking Antarctic trip.
The Newcastle University student has become the youngest Briton to ski the full distance to the south pole, after skiing 705 miles (1,100km).
The 21-year-old, from Derbyshire, said the expedition had "consumed" her life for about a year and had been at the back of her mind for a long time before that.
A love of the outdoors and mountaineering originally sparked the idea of taking on the challenge.
But it was when she met the previous British record holder, Andrew Cooney, who was 23 when he reached the south pole, that she was really spurred on.
'Amazing environment'
"The implication was that it would be too difficult for a woman to beat that record," she said.
"That put into my mind that there was the potential for a new British record there and if I got my act together and put the hard work in instead of it being at some point in the future I could get to the south pole sooner and beat the record."
And she said the determination not to prove someone right had been a great motivator when the training became tough.
Speaking before the expedition, Miss Balen, who celebrated her 21st birthday on the trip, said it had been "the challenge, pushing myself, being in such an amazing environment" that had inspired her.
When she was asked what she would most look forward to when she came back she was left at a bit of a loss
"This has consumed my life for the past year and it has been at the back of my mind for the two years before that," she said.
"So just rediscovering what normal life is like. I don't even know what I am looking forward to because it is unthinkable at the moment."