South Tyneside Council drops Catherine Cookson signs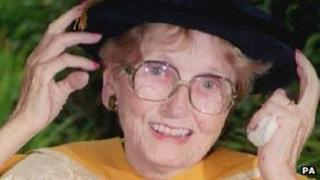 Visitors to South Tyneside are no longer being advised that they are entering "Catherine Cookson Country".
The best-selling author, who died in 1998 shortly before her 92nd birthday, was born in South Shields.
The council put up signs hailing her association with the area, but after 25 years they are being replaced.
It said that while it was proud of the success of the branding, it was considering a new one to promote South Tyneside and attract new investment.
Many of the signs on the main routes have already been replaced by brown ones showing visitor attractions.
Catherine Cookson wrote almost 100 novels, many set in her native North East.
She was awarded the OBE in 1985 and made a Dame Commander of the Order of the British Empire in 1993.
'Extremely proud'
A South Tyneside Council spokesman said: "South Tyneside is well-known as the birthplace of Dame Catherine Cookson and the 'Cookson Country' brand has served the borough well for over 25 years.
"We are extremely proud of its success but feel the time is right for us to consider new branding.
"Competition for investment is stronger than ever in the current economic climate, so it is essential that South Tyneside has a brand that raises its regional, national and international profile in relation to tourism and economic regeneration."
He added: "We will continue to work with tour operators to promote the Cookson Tours and are looking at new ways of exploiting our Cookson links to attract visitors."