Horrible Histories writer Terry Deary to be torchbearer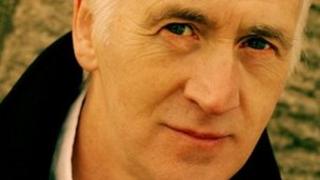 A well-known County Durham children's author has been chosen to be an Olympic torchbearer thanks to his charity runs.
Terry Deary, has written 200 books including the Horrible Histories series about the gory going-ons of our ancestors, which is a series on CBBC.
But as well as his prolific writing, the 66-year-old from Langley Park, raised £8,000 for a children's charity by running 100 miles.
He said he was "delighted" to be chosen to carry the torch on 20 June.
He will carry it on the 20th leg of its journey on its way to Carlisle.
Mr Deary retired from writing children's book in January after 35 years.
In September, he ran the length of Hadrian's Wall over six days, then ended the challenge by completing the Great North Run to raise money for Sacriston-based children's charity, Integrated children.
Children's Charity
He said he was looking forward to carrying the torch, but had no idea where exactly he would be joining the route because it was all so "secretive".
He said: "I wouldn't like anyone to think they had just given it to me - last year I did quite a big run and raised £8,000 for Integrating Children.
"The charity makes sure that disabled children can go out and do the things that other children take for granted like ten pin bowling or the cinema, that kind of thing.
"I think that is what may have swayed the Olympic organisers to choose me."
He add: "It is all so secretive though - I'm on 20 June when the route is from York to Carlisle so I don't know which stretch I will be on."
Mr Deary sometimes makes a guest appearance on the series Horrible Histories: Gory Games, as a monk.
Nationwide, 8,000 people will be part of the torchbearing Olympic team.