Northern Rock visited by Virgin's Sir Richard Branson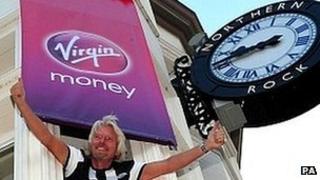 Sir Richard Branson, whose Virgin Money has taken over Northern Rock plc, has said rebranding the bank is necessary due to the "history" of the old name.
The business tycoon was speaking during a visit to Newcastle, where he met staff and customers at the first branch to be given a name change.
Virgin Money took over the Newcastle-based bank, which was nationalised in 2008, in a £747m deal in November.
He said it was important to have a "clean start".
Sir Richard began a two-day UK tour with a visit to the branch in Northumberland Street, before moving on to meet staff at the operational headquarters in Gosforth.
The rebranding of all 75 branches is expected to take about nine months.
He said: "We did debate calling it Virgin Rock, doing a sort of halfway house.
"I have a Twitter account and went out to the public to get feedback, and we had a lot of fun names.
"I like Virgin Rocks myself, but in the end it was decided that Virgin Money had been very successful for the last 16 or 17 years, and doesn't have any history, which obviously Northern Rock does have.
"It was better to have a clean start, but I promise that we have a lot of respect for Northern Rock, its employees and customers."