Lottery-backed North East campaigns changing lives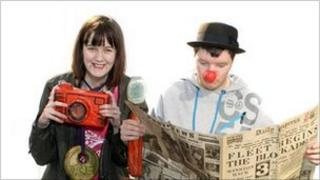 When Dick Moules' local shop was threatened with closure he thought it would be the death knell of village life.
Not content to sit back and let this happen, the 64-year-old galvanised a small army of 50 volunteers to take over the flagging business.
For decades the store and post office had been at the heart of Humshaugh - a village, near Hexham, in Northumberland - with a population of less than 1,000.
This was in 2009 and within two years it is already turning a profit making £15,000 this year.
The success of the shop has whetted the villagers' appetite for business.
Other ventures in the pipeline include fitting the village hall with a commercial kitchen and running a pies and preserves business.
They are also planning to get six bee hives to produce Humshaugh Honey and even buy the village its very own electric car.
Mr Moules, who set up Humshaugh Community Ventures Limited, said: "It started off as a campaign to save the shop, but now we want to save the world and go green.
"We now have a number of business strings to our bow and the shop is now a thriving hub. We are ploughing the money back into the community including to help run pre and after-school clubs."
To get the project off the ground it needed £35,000 in donations - including £7,500 from National Lottery funds - to refit the shop and buy stock.
Mr Moules said: "The thought of losing the shop galvanised us into action. Without it we thought the village would eventually collapse and become a dormant, retirement place.
"We also thought builders would no longer want to build homes in the village and we would not be able to attract young families, or single working people - that hasn't happened."
This month, The National Lottery is celebrating unsung heroes using lottery funding to help their communities.
Since the lottery began in 1994, £27bn has been raised for good causes and more than 370,000 grants awarded.
Angela Oxberry, of charity Women's Health South Tyneside, based in South Shields, has helped countless women in crisis over the last 23 years, thanks to the funding.
Often their lives are blighted by domestic abuse, depression, or even just low self-esteem.
The service is run by women for women and helped more than 300 people last year through counselling, complementary therapies, childcare help and drop-in sessions.
Ms Oxberry said: "I believe that women should have choices and chances in life. It's a privilege to help make that happen every day."
For 25 years Geraldine Ling has dedicated her life to helping people with special needs through her theatre group Lawnmowers, which she set up in 1986.
This year, Gateshead-based Lawnmowers received £437,000 and Ms Ling said the project helps create thousands of opportunities for disabled people every year.
Ms Ling, who recently received an MBE for services to people with special needs, said: "The Lawnmowers is like a family to me.
"The project is all about developing disadvantaged individuals. It's an opportunity for people to join a team, and be included.
"The most disadvantaged and disabled children are given that chance."