Historical Ogle Castle in Northumberland for sale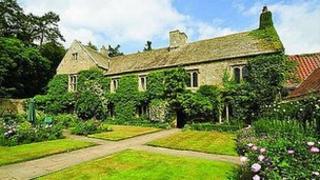 A Northumberland castle, once used to imprison the son of Robert the Bruce, is up for sale for almost £2m.
King David II of Scotland was held at Ogle Castle, near Ponteland, after his defeat at Neville's Cross, in County Durham, in 1346.
The nine-bedroom Grade I-listed building is owned by the Boanas family.
Built on an Anglo-Saxon ruin, the castle is one of the oldest inhabited buildings in England and the ancestral home of the Ogle family.
It has been placed on the market for £1.79m.
'Bloodcurdling things'
King David II was captured by the English and locked up at the castle before being sent to the Tower of London.
From the castle's Pele Tower he could see the battlefield where he had been defeated.
The site was purchased by the Boanas family in 1985.
Bo Boanas, 67, said: "No doubt some pretty bloodcurdling things happened around the castle, but to us it has always been a family home.
"It was love at first sight when I saw it and it's been wonderful living here.
"We're always being asked about whether we have ghosts, but I don't believe in them.
"King David was locked up in a small room at the top of the Pele Tower.
"He had just two tiny windows to look out of through, which he could see all the way to Neville's Cross, not that he'd have wanted to."
Newcastle-based estate agents Sanderson Young, who are handling the sale, said there had already been some interest in the property.