Coma crash survivor Candace Emptage on road to recovery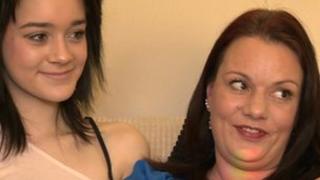 A County Durham woman whose family was told she would not survive after a car crash is on the road to recovery.
Candace Emptage was in a coma for two months after being cut out of the wreckage of her car when it collided with an ambulance in September 2010.
The former model, of Burnopfield, suffered severe brain injuries and had no memory of her daughter Maddie.
But she has now learned to walk and talk again and is looking forward to spending Christmas with Maddie, 14.
Ms Emptage's Toyota MR2 was involved in a collision with an ambulance near Rowlands Gill, Gateshead, and it took the emergency services more than an hour to cut her free.
She had no memory of the crash and her family was told to consider switching off her life support machine at Newcastle General Hospital.
'Learning again'
But she eventually came round and was released from hospital in January to undergo months of intensive physiotherapy and speech therapy.
Ms Emptage said: "Basically my family was told I was going to die, then when I survived they were told that I would never walk or talk again.
"So I've been learning to do things again - although my speech will never been completely the same.
"I remember Maddie when she was about two or three, with long, naturally curly hair. But when she came to the hospital I said to my mam who is that?
"She said, 'that is your daughter?' I remembered her as a child but not as a teenager - we have a lot of catching up to do."