Birtley boxing facility hopes to attract global talent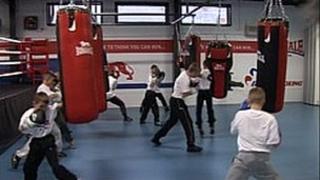 A purpose-built boxing facility in Gateshead is hoping to attract global boxing talent.
Birtley Young People's Club, which has been open for 34 years, has produced more than 100 national boxing champions as well as Commonwealth Bronze medal winner Andrew McLean.
The new state-of-the-art gym, which is part of the club, offers facilities for boxing, judo and football, and was officially opened on Monday.
The club was recently awarded the 50th London 2012 inspire mark for its work with disadvantaged groups across the regions.
It also came to the attention of the Columbian boxing team, who used the facility to train for the world championships.
Staff at the club are hoping this will encourage other national teams to use their facilities in the run up to the London 2012 Olympics and beyond.
Ron Rowe, head boxing coach at Birtley Young People's Club, is thrilled with the new facilities, which includes two gyms, three boxing rings, two junior grass pitches, a conference room and classroom space.
He said: "It's a dream come true, we're hoping to attract a team for the Olympic Games, but we're certainly well positioned for the Commonwealth Games in 2014.
"We had the Columbian boxing team train here recently for the world championships and we're hoping they may come back here for the Olympic Games.
"It was a great honour to have them here and working with our boxers."
In 2011, Pat McCormick won the junior European Championships and junior World Championships, along with his twin brother Luke, who also won a European gold medal and silver at the World Championships.
In the professional ranks the club has also produced champions Jon-Lewis Dickinson and Travis Dickinson.
Birtley Young People's Club received £573,610 of National Lottery investment.
Sport England's Chair Richard Lewis said: "With London 2012 fast approaching, the club is a shining example of how we're helping transform the places where people play sport and deliver a lasting legacy beyond London 2012."