Whitley Bay mother loses 10 stone in weight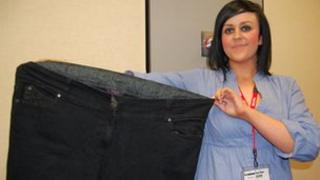 A mother from North Tyneside has lost half of her body weight hope of improving life for herself and her two children.
At the age of 21 Jess Allsop weighed 21 stone and 6lb (about 137 kg) and was a size 26.
Now 23, she is 10st 11.5lbs lighter after following a strict diet and visiting a slimming club.
"For the first time in my life, I feel normal now and I'm in control of myself," she said.
Ms Allsop, from Whitley Bay, did not want her two daughters to follow in her footsteps by having to see a dietician at the age of six.
She said: "Looking at my two kids, I thought I can't care for myself let alone two little babies and they need the best mum they can have so I thought I've got to do it now, this is no life to live."
At the age of 10 Ms Allsop had to visit the hospital to have X-rays to monitor how her hips coped with the weight and had a hard time at school.
After losing her mother to cancer, the problems worsened.
She said: "My mum passed away when I was 12 and I ate a lot of food after that.
"I used to eat everything and lots of it, bread, cheese, crisps and there was no end.
"I couldn't live a life and I was trapped in my own body - I didn't want to leave the house."
She said losing the weight was the "best thing she ever did".
She was named one of the Slimming World Women of the Year 2011.