Newcastle surgeons reattach girl's train-severed arm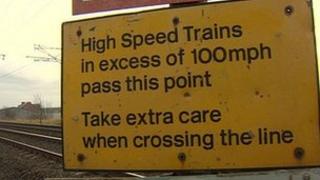 A 12-year-old girl whose arm was severed when she was hit by a passing train at a level crossing on Tyneside has had the limb reattached.
Rebecca Huitson was with three friends when she was struck a "glancing blow" by the Edinburgh to London King's Cross train at Killingworth on Monday.
The schoolgirl from Brunswick village, Newcastle, was operated on at the city's Royal Victoria Infirmary.
The surgeons said the procedure had gone "quite well".
Consultant plastic surgeon Michael Schenker added that the arm had suffered a lot of damage.
"I don't know how they found it but was told it was found quite far away from the patient," he said.
"It has a number of fractures so we have to deal with that at a later stage.
"The main thing was to get the blood supply into the arm as quickly as possible, and so far that is working."
'Appropriate support'
Rebecca has now been returned to a normal ward from the ICU.
Alison Shaw, principal of Seaton Burn College, said that everyone was hoping Rebecca would make a good recovery.
"A number of our young people were very distressed, when they heard what had happened," she said.
"Some of them had witnessed it, so we are trying to help them get back to their learning with appropriate support to deal with the trauma they have suffered."
A British Transport Police spokesman said that investigations were continuing but the incident appeared to be an "accident".
The Rail Accident Investigation Branch of the Department for Transport has been informed.