Charity worker Ashleigh Ewing died in 'frenzied' knife attack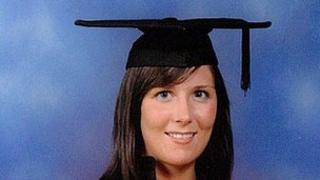 A 22-year-old mental health worker was stabbed 39 times in a "frenzied" knife attack by a paranoid schizophrenic she visited in Newcastle, an inquest heard.
Graduate Ashleigh Ewing had just started her career with charity Mental Health Matters, when she was stabbed to death in Ronald Dixon's home in 2006.
The inquest heard how Dixon, then 35, used several knives in the attack.
Coroner David Mitford criticised the NHS Strategic Health Authority for a lack of transparency.
Dixon, of Eighth Avenue, Heaton, later denied murder, but admitted manslaughter by reason of diminished responsibility.
He is currently detained at Rampton Secure Hospital.
Det Sgt Sean McGuigain of Northumbria Police, told the inquest that a neighbour of Dixon heard screams shortly after Miss Ewing entered Dixon's house.
He alerted her employers who then contacted police.
By then Dixon, who had a history of offending, had showered, changed and walked to a police station to hand himself in.
The inquest heard that Dixon was previously arrested for threatening to kill the Queen and that he wanted to stop taking his medication.
Mr Mitford criticised the NHS Strategic Health Authority, saying he was concerned that more than five years after her death, its own investigation was still ongoing and the details were not known.
After Dixon's trial, Sunderland-based Mental Health Matters was ordered to pay £50,000 for failing to properly protect her.
The inquest continues.