Durham Lumiere festival 'attracts over 150,000'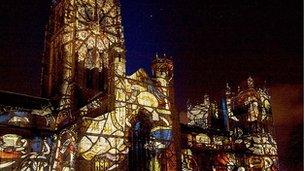 More than 150,000 people attended the four-day long Durham Lumiere festival, say organisers.
But with complaints about safety and the number of people, Lumiere artistic director Helen Marriage said the festival may not return next year.
She said there were only 31 recorded injuries during the event, which lit the city up for five hours a night.
Organisers say they brought in more marshals and introduced a one-way system for pedestrians.
Mrs Marriage said: "We have a responsibility to keep safe the people who visit, and that means putting in some control measures. People don't like being ordered around.
"It wasn't unsafe, we made it safe - the only injuries were slips, trips and one person who burnt themselves with their own cigarette.
"But I think there's a huge question about whether Durham wants this back."
Durham Councillor Neil Foster said the growing attendance of event makes the Lumiere festival a "great success" for Durham.
He said: "It's all investment in the community and raising the profile of the area."
Related Internet Links
The BBC is not responsible for the content of external sites.