Twin Tyne tunnel project completed early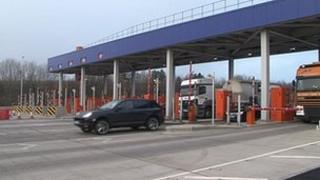 A £260m project to add a second tunnel crossing under the River Tyne has become fully operational.
The original Tyne Tunnel opened in 1967, but closed for refurbishment when the four-year construction of a second was completed in February.
Now both are operating together for the first time in a move planners say will drastically cut congestion.
Both tunnels connect the A19 in East Howdon north of the Tyne with the A19 through Jarrow in the south.
A spokesman for TT2, the company responsible for the new tunnel, said: "After four years of construction, and more than 10 years of planning, we are delighted to offer North East motorists two vehicular Tyne Tunnels, to alleviate congestion at the UK's fourth worst traffic blackspot.
"We are looking forward to seeing the vision of the new Tyne crossing project becoming a reality, as northbound traffic transfers into the refurbished tunnel on Monday - two weeks ahead of schedule.
"The transformation of the original road tunnel has involved construction of a separate clean air escape passage for pedestrians, and installation of leading edge fire safety technology.
"Now both are up and running the refurbished tunnel will offer two lanes for northbound traffic, while the 2011-built tunnel will provide two lanes for southbound traffic."
The first 10 users of each tunnel were given a £50 permit valid for 40 trips.
The original Tyne Tunnel was designed to deal with 24,000 vehicles a day, but has regularly had to cope with about 38,000 a day.