Review after Durham Lumiere crowd flow concern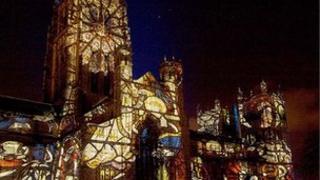 Organisers of Durham's Lumiere festival said they would review security measures after concerns were raised about crowd flow.
Buildings and bridges in the city are being lit up over four days.
Thousands attended the first night on Thursday. Concerns were raised about the build-up as crowds headed towards the peninsula around the cathedral.
Organisers said there were more people than they had anticipated and they would review procedures.
One woman at Thursday's event told BBC Newcastle: "It was absolutely heaving and they didn't have enough exits coming out.
"They were sending you one way and the barrier was shut, you couldn't get out that way so they sent you another way and you had to jump up a wall to go that way. It was badly organised."
'Dynamic plan'
Others talked about how much they had enjoyed the light displays.
Lumiere artistic director Helen Marriage said it was hard to predict crowds and there were more people than organisers had anticipated.
She said there were large crowds on the peninsula but crowds around the rest of the city had flowed well.
She said: "We tried to encourage people not to return back down the way they had come but to go out over the riverside over Prebends Bridge.
"And we had about a 45-minute period when the crowds were very congested and then we cleared them in a particular direction."
She said from about 20:15 GMT onwards, crowds flowed well.
Meetings were being held each day to review security procedures and make any changes needed, she added.
"It's always a dynamic plan responding to what happened the night before", she said.
Among the measures would be more security people and more lighting.
The festival started in 2009 and last year more than 75,000 people came to the city over three nights.