Newcastle United fan digs up St James' Park brick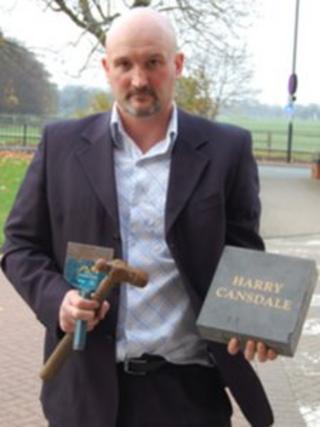 A Newcastle United fan has dug up and removed a commemorative brick from a walkway at the football club's ground.
Graeme Cansdale, who is a member of the Mike Ashley Out campaign, bought the brick for his father 11 years ago.
He said he reclaimed the brick in protest at the name change from St James' Park to Sports Direct Stadium.
"For those who are worried about health and safety we did replace it with the same sized brick," he said. Newcastle United declined to comment.
Mr Cansdale said: "Eleven years ago I bought what was called a heritage stone that was sold by the club, Newcastle United, to, you know, be part of the fabric of St James' Park.
"Now, almost a week after Mike Ashley decided to annul the name of St James' Park, and ignore 119 years of history, I decided to safeguard my part of St James' Park by chiselling my brick up."
Hammer and chisel
The brick was part of a path laid on St James' Way at the football ground.
Mr Cansdale said he does not think taking it was illegal.
He said he handed in a letter to the managing director, Derek Llambias, warning him the brick was about to be removed, was careful not to damage surrounding bricks and filled the hole with a replacement brick.
He stresses the brick belongs to him: "I've actually reclaimed my own property. It has a certificate of ownership.
"Now that St James' Park no longer exists I think I've every right to protect my property."
Mr Cansdale said he would not return the brick while owner Mike Ashley remained at the club.