Chris and Karl King travel the region for Children in Need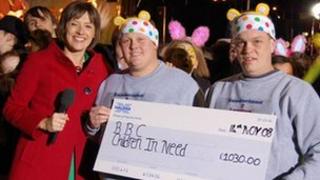 Two brothers from Sunderland will travel the length and breadth of the region using public transport to raise money for Children in Need.
They will also visit seven football grounds: Sunderland, Gateshead, Newcastle, Carlisle, Darlington, Middlesbrough and Hartlepool.
The tour will last three days and begin on Tuesday 15 November in Sunderland.
Chris and Karl King have raised more than £3,000 for Children in Need by completing challenges since 2008.
The brothers are no strangers to using public transport to reach a variety of destinations.
In 2008 they travelled to London using numerous buses across the country to reach the capital city.
In 2009 they used 47 buses and two tube trains to visit 10 cities around England in five days.
In 2010 they visited all 60 Tyne and Wear Metro stations and then travelled to London and stopped at each of the city's 270 Tube stations.
This year they will travel as far as Berwick-upon-Tweed, Carlisle and Scarborough.
Chris said: "It's something different and we wanted to keep it local for a change rather than going around the country like we've done in the past."
The brothers' route this year will take them to some of the region's well known football grounds.
Karl said: "We are big football fans, not so much bus fans, but originally it was all to do with concessionary passes changing and saying you could travel up and down the country using the bus passes.
"We thought, out of curiosity, if we could actually travel the country and you can, we've proven it twice!"