Demolition plan for Newcastle tower blocks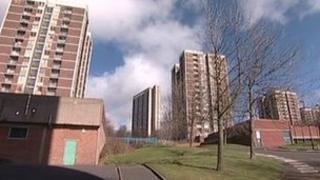 A set of tower blocks which have dominated part of Newcastle's skyline since the 1960s are to be demolished.
Five of the blocks which form the Riverside Dene estate - formerly known as Cruddas Park - have been revamped.
However, initial plans for a £100m development of the whole site announced two years' ago had to be scrapped due to lack of money.
The council said that clearing the remaining five blocks was the best way to attract new investment to the area.
David Slater, executive director of environment and regeneration at Newcastle City Council, said: "The original decision was always going to be to develop the blocks in phases.
"What happened was first of all the economic downturn, which dramatically changed the housing market.
"Secondly, in 2010 the government took away the money that we'd had through the NewcastleGateshead Initiative to develop the blocks.
"So we've really been lucky in some ways to get the five blocks developed."
The demolition will be overseen on behalf of the council by Your Homes Newcastle, which said it was working with existing residents and shop owners to minimise disruption.
Blocks to be demolished - The Beeches, The Poplars, The Willows, King's Meadows - will be stripped out and then dismantled.