Remote control test for River Tyne waters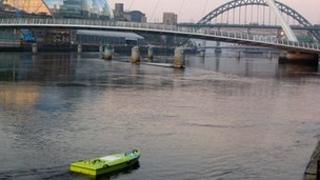 A remote controlled boat has taken to the water to find out what goes on under the surface of the River Tyne.
The Environment Agency craft sends out acoustic pulses which hit the water and return information on speed and depth across different sections.
Results showed that tidal waters were having an impact as far inland as Newcastle Quayside.
The agency described the boat as "the greatest advance in our ability to understand rivers for decades".
It found that during high tide 906 cubic metres - the equivalent of one million wine bottles - per second of water flowed under the Millennium Bridge, as opposed to 116 cubic metres per second during a low tide.
Fish migration
Gemma Nixon, from the Environment Agency, said : "This is the largest volume of water we've been able to record using the equipment, and the highest ever recorded across our region.
"We wanted to see the difference in water speed and depth during a high and low tide cycle and the technicians took advantage of ideal conditions and gauged the full width of the Tyne."
She added: "One of the ways we'll now use this data is with our fisheries team.
"These areas of fast flowing water may provide an insight to fish migration routes through the estuary."