Newcastle's Military Vehicle Museum building for sale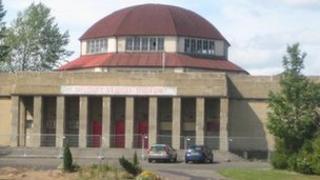 A landmark building created to celebrate the industrial success of Tyneside is up for sale.
The former Military Vehicle Museum in Newcastle's Exhibition Park opened as a "Palace of the Arts" in 1929 to house the North East Coast Exhibition.
Built as a temporary structure, it later had a number of uses and gained a Grade II-listing, but its deteriorating condition led to its closure in 2006.
The council has said it cannot afford repairs and is seeking buyers.
If none can be found, the council said it may, as a last resort, have to consider applying to English Heritage for it to be de-listed so it can be demolished.
Councillor Henri Murison, cabinet member for quality of life, said: "Without a doubt the museum is one of Tyneside's most recognisable buildings.
"It has fallen into a state of disrepair and in these financially challenging times we can no longer afford to repair it, so reluctantly we are putting it up on the market.
"It could be used as a museum, a day nursery or for educational purposes.
"We would like to hear a range of ideas for future use of the building which are innovative and socially inclusive."