Northern Rock Newcastle United sponsorship deal ended early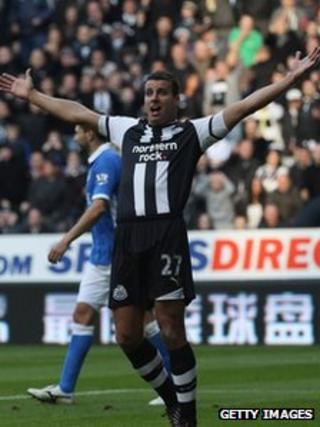 Northern Rock has ended its sponsorship deal with Newcastle United early, the BBC has learned.
The £10m deal was renewed in January last year and was due to last four years.
It included a clause allowing the bank to get out after two years, which it has now taken up. It is understood the decision was made on financial grounds.
On Thursday, the club announced its ground St James' Park was being renamed the Sports Direct Arena.
Newcastle-based state-run bank Northern Rock said the end of the sponsorship was nothing to do with the stadium name change, but following a change in the way it spends money on marketing.
In the last few years, Northern Rock has ended its sponsorship deals with Durham County Cricket Club, basketball outfit Newcastle Eagles and rugby union side Newcastle Falcons.
Neither Northern Rock nor Newcastle United would be interviewed on the decision.
'Different way'
But in an interview with BBC Newcastle on Thursday about the stadium name change, Newcastle United managing director Derek Llambias said they were looking for a new shirt sponsor.
He said: "I need to find a new shirt sponsor by the end of December - and that's the latest.
"Puma need to put the shirt sponsor on, they're manufacturing, and they would like it last month.
"I've got a very small window to sell the shirt and naming rights and, if I have to sell them separately, then I have to sell them separately."
Newcastle United, who are currently third in the Premier League, said a change to the Sports Direct Arena was a prelude to securing a new global sponsor which would generate more revenue.
It said the club could generate up to £10m a season by attracting a joint shirt and stadium sponsor.
But the announcement about the stadium rename was greeted with anger by fans.
Labour leader Ed Miliband urged Newcastle United to abandon plans to rename its ground.
The Labour leader said football clubs were owned not just by individuals but their supporters, and that given the "overwhelming" opposition of fans the club had a responsibility to find a "different way forward".