Durham runner Mark Allison to cross Australia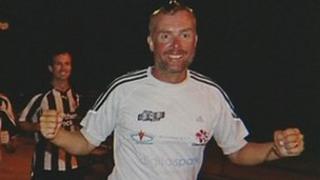 A charity runner who ran across the US in 100 days is planning a new challenge - a 2,600 mile trek across Australia.
In August, Mark "Run Geordie Run" Allison completed a 3,100-mile run from California to New York raising £105,000 for two charities.
Now the 40-year-old is planning to do his new challenge from west to east coast Australia in 70 days, in 2013.
Mr Allison, of Durham, plans to meet his wife Katy and son Jack, seven, in Bondi Beach, Sydney, on Christmas Eve.
During his America challenge, Mr Allison ran an average 30 miles a day and lost 5st (31kg) on the way.
To complete his new challenge he will have to run an average 40 miles a day.
He hopes to raise a further £50,000 for the Children's Foundation and St Benedict's Hospice, in Sunderland.
He is due to set off from Perth on 16 October, 2013, so has two years to train.
'Really hungry'
Mr Allison said: "When I set off last time I was a fat, 18-stone Geordie and when you are running 30 miles a day, you get really hungry and I was eating everything and anything.
"I'll not do that this time and try and be more balanced and eat a good diet.
"It will be a hell of a sacrifice leaving Katy and Jack, but this time they will fly out to meet me at the finishing line."
The challenge will be in memory of his family - his mother, who died in 1995, father Terry, who died of cancer in 1988, and his brother David, who died from a brain haemorrhage in 1998.
The most exhausting part of Mr Allison's route will be the arid Nullarbor Plain - meaning "no trees" - which is considered one of the most hostile environments on Earth.
Mr Allison added: "I will be running in blistering, extreme temperatures so am planning six rest days."