Newcastle City Council condemns St James' Park name change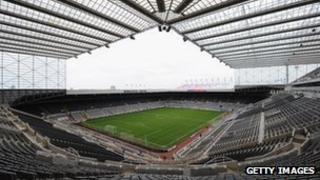 City council bosses have condemned a decision by Newcastle United to rename St James' Park after 130 years.
The club said a change to the Sports Direct Arena was a prelude to securing a new global sponsor which would generate more revenue.
Newcastle City Council joined fans in criticising the club, claiming "some things are beyond profit".
The authority also said it would refuse to change any signs in the city bearing the name St James' Park.
Derek Llambias, the club's managing director, said attracting a named sponsor for the ground could generate up to £10m a year.
But Newcastle City Council's cabinet member for quality of life, Henri Murison, said: "The name of St James' Park has been synonymous with Newcastle United football club and the city for more than 130 years.
"It is recognised around the world and the decision to change it, without consultation, will upset the overwhelming majority of fans who loyally support the team week in and week out.
"While I understand the commercial reasons for renaming sports venues when they relocate, this is not the case in this instance, and some things are beyond profit when they mean so much to people.
"The football club is part of the beating heart of the city, and while the council values its relationship with the club, it has no plans to change any existing wayfinding signs which bear the name St James' Park.
"As far as the fans and Newcastle City Council are concerned, the home of Newcastle United will always be known as St James' Park."
Mark Jensen, editor of Newcastle United fanzine The Mag, described the decision as "all stick and no carrot".
Former Newcastle defender John Anderson said he thought most fans would continue to call it St James' Park.
But Mr Llambias said: "Money's tight, football's expensive and if we can make it cheaper to come, then that's our job done.
"We are not disrespecting our fans, at all, far from it, we are trying to make it more affordable and put some new players onto the pitch."