WWII North East 'Lumberjills' sought for project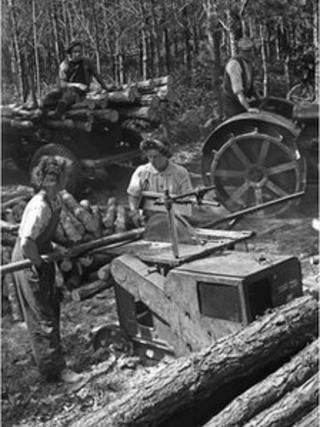 A heritage project is searching for "Lumberjills" in the North East to help recapture the experiences of working in Chopwell Woods, Gateshead, during WWII.
The project will recount the memories of members of the Women's Timber Corps who served during the Second World War.
Women from all over Britain would carry out tasks such as felling and measuring logs, as well as loading timber onto trucks and driving vehicles.
Their effort was crucial in helping to supply timber to war-time industries.
Pam Warhurst, chair of Forestry Commission England, said: "The great efforts of our Lumberjills must be one of the last unrecognised stories of the Second World War.
"We forget how vital timber was to the war effort and yet so little is known about the women who kept the nation's forestry working.
"I am extremely grateful to projects like this which are striving to gather information before it slips from our collective memory."
Chapter of history
The Women's Timber Corps was set up in 1942 as an off-shoot of the Land Army and at its peak had thousands of women from all backgrounds dressed in distinctive uniforms filling in for the men who were away fighting.
The project is being ran by Groundwork North East, working with the Forestry Commission and the Friends of Chopwell Wood.
They hope to apply for Heritage Lottery funding to record the stories and experiences through the creation of a website, open days and educational visits to schools.
Joanne Norman, from Groundwork North East, said: "The work of the Lumberjills is an important part of the history of Chopwell, but very little is known about it.
"Their stories will help us write another chapter in the history of the wood and recognise their contribution."