BBC Children in Need helps Sunderland kids change lives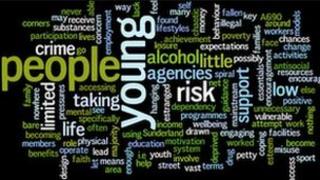 Tanya Boyd from Sunderland is an A690 Youth Initiative success story.
The 17-year-old says: "I was drinking, arrested for shoplifting. I'd just fight for the simplest little thing.
"When I was drunk I was very aggressive towards the police. I caused a lot of problems at home.
"I went downhill at school and I ended up being violent towards one of the teachers and I got expelled for good.
"I just kept thinking to myself, well why do I carry on, it just makes things worse, but then I kept doing it."
The initiative says the £60,000 it received from Children in Need made the difference between "struggling desperately" and managing to keep youth workers on the streets to help people like Tanya.
It is just one of thousands across the country to benefit from fundraising for the charity.
In the north-east of England £1,078,781 was awarded to 22 projects.
Fundraisers in the BBC Newcastle area added £140,694 to the total.
'Made a difference'
The A690 Youth Initiative says many children will not come to an organised group or youth club so its youth workers visit children "on their own territory" - the streets.
It offers continuity and a point of contact to children with chaotic home lives who might be drinking, taking drugs or be otherwise at risk.
Project manager Jim Ferry says this consistency - "which for a lot of young people is non-existent in their life" - is crucial.
Tanya Boyd says things started to change when she was asked to help out at the project.
She says she is a different person now: "It's a weird feeling inside. I think to myself, when I was 14, 15, if a kid had come to me and says I need your help I'd have honestly just told them where to go.
"But when I help them and they say, 'Thank you, that really made a difference', it's like, I did that, I made a difference to them."
'Absolutely mortal drunk'
The children the project helps can be as young as eight, out on the streets as late as 10 or 11 o'clock at night.
The project realises that parenting - or lack of it - can be much of the problem.
Mr Ferry said: "That is one of the big issues. We do develop good relationships and strong working relationships with the parents themselves because sometimes they need as much help as the young people.
"A young mam rang me up the other night when I was on the streets, absolutely mortal drunk, pleading the case for this young person to go on a trip.
"You think, if that's their home environment what chance have some of these young people got?"
He says the project works, citing one scheme as proof.
"We set up a perimeter fence. Everyone's breathalysed, everyone's metal detected when they come in so it is a safe environment.
"We put up marquees, we have music, dancing. There's no smoking, no drinking, no drugs. And young people purposefully don't drink and don't take drugs so they can get in."
Without the money from Children in Need, Mr Ferry says they would "struggle, desperately".
BBC Local Radio is hosting 22 special screenings of Grease in aid of Children in Need, at Cineworld cinemas across England on Tuesday 15th November.
Tickets are £6, with £5 going to Children in Need. More details here.