Gateshead families plea for change in law after methadone deaths
By Fergus Hewison
BBC Newcastle Political Reporter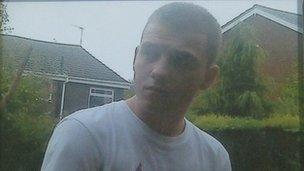 The families of two Gateshead men who died after taking methadone are calling for a change in the law.
Methadone is usually prescribed to people trying to overcome addiction to heroin and in most cases users have to take it in front of a pharmacist.
At weekends some users are allowed to take doses of the drug home. Sometimes these turn up on the black market.
Both families now want methadone users to have to take the drug in front of a pharmacist at all times.
Kathleen Chilley, from Gateshead, lost her 19-year-old son Stephen last year. He died after being given methadone on a night out - but had not been prescribed the drug.
Mrs Chilley said: "He went out on a Saturday night, he told us he would come back, he wouldn't be long.
"He never came in that night and so I thought maybe he was just staying at his friends, which sometimes he did do. By the Sunday I got really worried.
"I went to bed and it was about 03:00 when the police knocked at the door to tell us that Stephen had died because someone had given him some methadone."
Ray Armstrong, also from Gateshead, lost his 20-year-old brother Shaun in similar circumstances and said it "tore the heart out" of his family.
Mr Armstrong said: "He had been out for a drink with a couple of his mates and then someone gave him some methadone. He slipped into a coma, and the paramedics couldn't do anything."
It is believed that at least four young men from the Tyneside area have died after taking methadone as a recreational drug in the last year, which has led health officials to issue a stark warning about its dangers.
Alyson Learmonth, director of public health in Gateshead, said: "Methadone is prescribed for people who are trying to give up heroin.
"If your body's not used to opiates, methadone can be lethal and regardless of your circumstances a mixture of methadone with alcohol can depress your breathing and disrupt your heart rhythm and in that way, cause death."
Now families of people who have died after taking methadone want the law changed and for methadone users to have to take the drug in front of a pharmacist at all times.
They are being supported by the Labour MP for Gateshead, Ian Mearns, who has raised the issue in parliament.
Mr Mearns said: "We have a situation where methadone is actually getting onto the market and being bought by young people who don't really know what it can do to them, so I would like to see tighter controls."
The Department of Health says methadone is subject to the most rigorous controls possible for a medicinal drug.
It also points out that only those users who have been carefully assessed are allowed to take doses home. However, it has no plans at present to change the law.
Related Internet Links
The BBC is not responsible for the content of external sites.