Sunderland's Nissan Leaf production gets £189m boost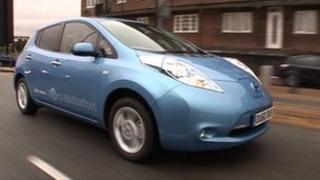 Sunderland's Nissan plant has benefited from £189m (220m euros) of European funding for the production of the Nissan Leaf and electric batteries.
The European Investment Bank's funding will support the integration of new machinery and tooling for production of the 100% electric car.
The car goes into production at the Sunderland plant in 2013.
Trevor Mann from Nissan said he was "very excited" and "extremely grateful" for the support.
The funding will also support the production of lithium-ion electric vehicle battery cells in early 2012 at the plant.
Together the battery and the Leaf represent a £420m investment by Nissan, and are expected to maintain about 2,250 jobs at Nissan and across the UK supply chain.
Making history
Trevor Mann, Nissan Europe's senior vice president for manufacturing, said: "The Nissan Leaf has already made history as the world's first affordable, mass-market, pure-electric vehicle and we are all very excited about battery and Leaf production beginning at Sunderland for our European market.
"We are extremely grateful for this support from the European Investment Bank, who share our vision and commitment for the roll-out of zero-emission transport."
Nissan say the Leaf cuts carbon emissions of up to 40% compared with a normal petrol family car and has a range of 100 miles (160km).
Reduction of carbon emissions and tackling climate change is a key objective of the European Investment Bank.