Work begins on £150m Gateshead redevelopment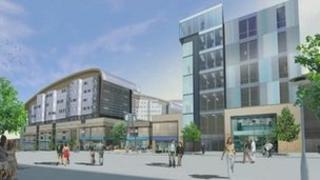 Construction work has begun on the £150m redevelopment of Gateshead centre.
The development will transform the former site of the "Get Carter" car park, Trinity Square, the indoor market and current Tesco store.
A brand new town square, 45 retail units, student accommodation, a health centre, offices and a new Tesco Extra will be built.
The three-year construction project is expected to create 1,000 new jobs.
Leader of Gateshead Council Mick Henry said: "This is the start of a bright new future for central Gateshead.
"We've been working long and hard to see this day come about and now the tangible evidence of this huge redevelopment really starts to appear.
"The very fact that this development is going ahead in the current economic climate when many others are not speaks volumes for the standing that Gateshead now has in terms of development."
The new supermarket, shops and health centre are due to open spring 2013, with the student accommodation to be complete by 2014.