Newcastle LGBT church celebrates 20 years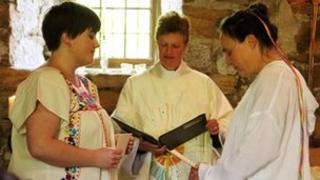 A church that welcomes the north-east of England's lesbian, gay, bisexual and transgender community is celebrating 20 years of worship.
The Metropolitan Community Church was first set up back in the 1960s in California to provide a welcoming place of worship for the gay community who were often excluded from other churches.
The first meeting in the North East was held back in the autumn of 1991 at the Friends Meeting House in Jesmond and about a dozen people turned up.
From there, they met in people's houses, and in some borrowed office space, until finally St James' United Reformed Church in Newcastle became their new home.
The congregation has grown steadily over the years and now has a full-time pastor Cecilia Eggleston.
She said: "I grew up as a Catholic but even as a young girl, I felt excluded from parts of the service.
"Although one priest knew I was gay, and was fine about it, I felt it wasn't a part of me that would be accepted by the whole congregation.
"When I discovered the Metropolitan Community Church, I felt immediately at home."
There are now several dozen people who regularly worship with the MCC in Newcastle.
Among the regulars is Ernie Collins who is in his 79.
Mr Collins said: "When I was a young man, being gay meant being part of a hidden illegal world.
"We all used camp names to protect our real identities from the police. My name was The Lady Isabel.
"It was wonderful to find the Metropolitan Community Church because everyone is so caring and loving.
"I've always had God with me and I just wish I could have gone to the MCC when I was a younger man."
In its early days, most of the people who went along to the Newcastle MCC were gay men but now there are many women among the congregation.
Charlotte Norton is a PHD student at Durham University and struggled to come to terms with her sexuality when she fell in love with another woman who is now her civil partner.
Mrs Norton said: "In the evangelical circles I moved in, it was made very clear it was a sin to be gay and that I should look for a husband.
"At the time, if I could have taken a pill to stop me being gay I would have done. Fortunately the right woman came along and I knew I had to make a choice."
The Metropolitan Community Church hold their services every Sunday at 18:30 GMT at St. James United Reformed Church, Northumberland Road, Newcastle and everyone is welcome to join them.