Historic stones moved for Housesteads Museum revamp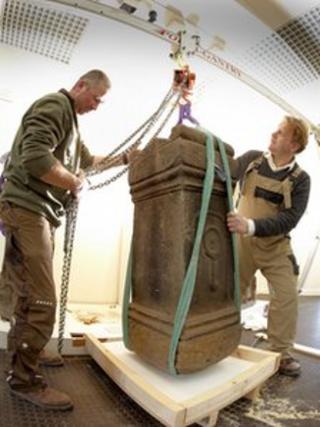 Conservation experts have carried out a delicate operation to pack up historic stonework while a major revamp is carried out at a Roman fort museum.
More than £1m is being spent on the project at Housesteads Roman Fort, in Northumberland.
The museum has had to be emptied of its artefacts, including 12 pieces of large stonework, such as altars.
The artefacts will be examined to see if they need conservation work and will be put back on display in spring.
The redevelopment is a joint project between English Heritage, the National Trust and Northumberland National Park Authority.
All the artefacts needed to be removed for their protection while building work is carried out.
English Heritage conservator for the North Caroline Rawson said: "It was very interesting because there were small finds on display and then these enormous stones.
"The small finds have been quite easy to pack but the stones required an awful lot more planning."
Ms Rawson said it was the first time the stones had been removed since they went on display in the 1980s.
English Heritage worked with conservation firm Skillingtons on moving the stones, some of which are almost 2,000 years old.
They included altars to Hercules, Mars and victory and Jupiter and sculpted figures. Four of the pieces of stonework alone weighed about half a tonne.
Interactive exhibition
Temporary gantries were put up around the stones and they were padded and tied down before being put in crates.
English Heritage and the National Trust have both given £500,000 for the project and £40,000 is coming from Northumberland National Park.
The new museum will feature an interactive and audiovisual exhibition looking at life at Vercovicium, the hilltop fortress and civilian settlement, which was on the northerly edge of the Roman Empire.
There will also be new interpretation panels.
The first phase of the project will open in spring. While the museum is closed, the fort will remain open to visitors.
The second phase will involve the National Trust improving visitor facilities and is due to be completed by the end of next year.