Kevan Thakrar trial: Killer 'sorry' for guards attack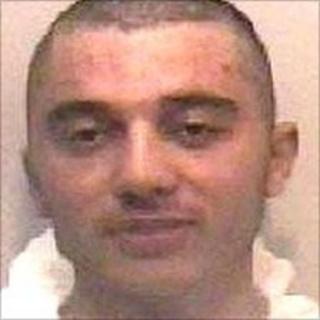 A triple killer has apologised in court for stabbing three prison guards outside his cell.
Newcastle Crown Court heard how Kevan Thakar, 24, accused prison officers of working to ensure he spent the rest of his life in prison.
He denies attempted murder and wounding with intent while serving a sentence at County Durham's Frankland Prison.
He has said he lashed out at the guards in self defence because he believed he would be attacked himself.
The former student and shop assistant told a jury that prison officers had a "see no evil, hear no evil" policy when it came to their colleagues' "abuse of power", and has accused prison staff of racist bullying.
Thakar, from Stevenage, Hertfordshire, said: "If you put an animal in a cage, poke it and then unlock the door, it is not going to just sit there."
'Sorry for that'
He added: "It is obviously wrong what happened, the individuals that have been hurt, and I am sorry for that, but it should not have come to that."
Thakar previously told the trial he had been victimised since his 2008 arrest for the murders of three men and the attempted murder of two women.
He said he had also been a victim of racism at the jail.
The court heard Thakrar may have been suffering from post-traumatic stress disorder at the time of the attack, as a result of his experiences in the British penal system.
Officers have denied a "culture of racism" at the County Durham jail.
The trial continues.