Kevan Thakrar trial: Killer in racist bullying claims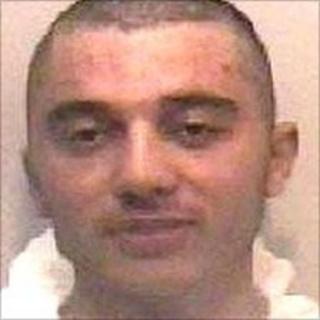 A triple killer accused of attacking three prison guards has claimed he endured years of racist bullying and abuse at Frankland Prison.
Kevan Thakrar, from Hertfordshire, said he had been victimised since his 2008 arrest for the murders of three men and the attempted murder of two women.
A jury heard the claims during his trial for attempted murder and wounding of the guards. He denies the charges.
Officers have denied a "culture of racism" at the County Durham jail.
Thakrar, 23, from Stevenage, told a jury he was called a "Paki beast" by guards who he claimed had plotted to attack him following a row over prison privileges.
At Frankland, the Hindu, who has a Scottish mother and Indian father, was told he had to be either "white or a Muslim", the trial heard.
He said there was a split of about 10% black or ethnic minority to 90% white inmates at the jail, and just one black prison guard, who was referred to behind his back by the other wardens as "Officer Darkie".
Thakrar said it was "total nonsense" to deny there was a culture of racism at Frankland, then and now.
He said: "There was racism between the Muslim and non-Muslim inmates and between the Muslim inmates and the guards. It was fuelled by the staff."
Thakrar denies attempted murder and wounding with intent. The trial continues.