Online auction for Sir Bobby Robson cancer charity begins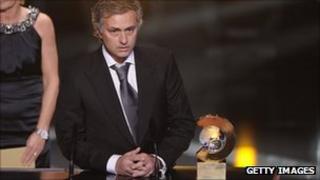 An online auction backed by Jose Mourinho and David Beckham for the late Sir Bobby Robson's charity has begun.
The pair are among many big football names to have donated items to be sold in Sir Bobby's Breakthrough Auction, taking place from 8-23 October.
County Durham-born former England boss Sir Bobby, who also managed Newcastle and Ipswich, died in 2009 at the age of 76 after a long battle with cancer.
It is hoped the auction will raise at least £250,000 for cancer research.
Mourinho, who worked as an interpreter and assistant for Robson in Spain and Portugal, when the Englishman managed Barcelona and Porto, has donated his Fifa Coach of the Year award from 2010.
Beckham has donated a signed LA Galaxy shirt and a football.
'So proud'
Other donations among the 130 items on offer have come from the likes of Pele, Barcelona coach Pep Guardiola and Sir Alex Ferguson.
Proceeds from the auction will be split between the Sir Bobby Robson Foundation and Breakthrough Breast Cancer.
The auction, and an associated lavish fundraising ball, was the idea of Gina Long, a friend of the Robson family.
She said: "I have been truly touched and overwhelmed by the generosity of every single donation of an auction item and messages of goodwill and support."
Mark Robson, Sir Bobby's son and part of the auction organising committee, added: "My dad would have been so proud at the way everyone has pulled together by contributing such incredible prizes."
So far the Sir Bobby Robson Foundation has raised more than £3.5m.