Newcastle's Black Gate awarded £1.4m grant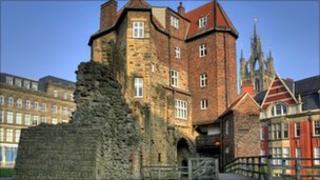 The medieval Black Gate in Newcastle has been awarded £1.4m by the Heritage Lottery Fund (HLF).
The money will be spent on restoring the currently vacant Grade I listed Scheduled Ancient Monument.
The building will then be opened to the public and used for educational, heritage and community projects.
Ivor Crowther, the HLF's regional head, said: "This project will bring this historic place back to life and give it back to the local community."
He said: "This is the perfect way to spend Lottery money - combining ancient history with new technology - ensuring everyone can learn from and enjoy our unique heritage."
The Black Gate was added to the site of the city's castle by Henry III in the 13th Century to bolster its defences.
'Opening up treasures'
It later became a merchant's residence and then, in the 19th Century, a slum tenement.
The restoration project aims to reconnect the building with the nearby Castle Keep and St Nicholas' Cathedral to create what the fund is calling a "heritage hub".
It will house digital exhibitions and learning activities reflecting the city's history.
Newcastle City Council's Cabinet Member Henri Murison said: "This is fantastic news for the city and the Old Newcastle Partnership and means not just preservation of our heritage, but real benefits for the city's economy and jobs.
"Opening up these treasures will bring even more people to our city."
The HLF has also announced a £4.6m grant for Bletchley Park, the World War II code breaking centre, in Buckinghamshire.