Tynemouth lifeboat search after planet Jupiter mistaken for flare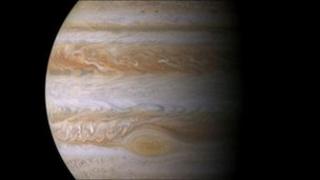 A rescue search was carried out off the coast of Tynemouth Longsands after a member of the public mistook the planet Jupiter for a distress flare.
Tynemouth RNLI and an RAF Boulmer rescue helicopter were called out to search for a possible vessel in distress six miles from the coast.
However, after an extensive search, it was found that the informant had mistaken the planet Jupiter for flares.
The RNLI said that the false alarm was made with the "best intentions".
The call was made by a member of the public on Monday at 19:45 BST.
The lifeboat crew observed a number of fishing vessels making their way back to the Tyne but began searching for a possible vessel in distress.
Adrian Don, from Tynemouth RNLI, said: "As the Tynemouth Volunteer Life Brigade spoke further to the member of the public it became apparent that the flares were in fact the planet Jupiter."
He said the planet "was also partly covered by clouds which possibly gave it the appearance of a flare".
"The RNLI stresses that although this was a false alarm it was made with the best intentions, and urges anyone who thinks they've seen anyone possibly in distress at sea to do the same," he added.