Unemployment campaigners recreate 1936 Jarrow March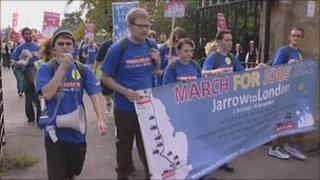 A group of young unemployed people have begun a walk from Tyne and Wear to London in a recreation of the Jarrow March which took place 75 years ago.
In 1936, 200 jobless men marched on the government with a 12,000-name petition calling for employment help.
On Saturday, some of their great-grandchildren were among those taking part in the new protest, calling for similar help from ministers.
Campaign group Youth Fight for Jobs said it hoped hundreds would take part.
Students and young trade unionists also joined the march.
It will finish in London with a demonstration on 5 November to protest against the high levels of youth unemployment.
Claire Laker-Mansfield, one of the organisers, said: "We are marching to demand that the government does more to invest in a decent future for young people.
"We think it is unfair that in the 21st Century, young people are facing long-term unemployment. There are almost a million young people out of work, and the jobs market is not getting any better."
The march has been backed by trade unions including the Rail Maritime and Transport union and the Public and Commercial Services (PCS) union.
Mark Serwotka, general secretary of the PCS, said: "Three-quarters of a century on, the young people recreating this famous march are sending an important message that our communities must never again be abandoned to pay for an economic crisis they did not cause."
The government says it is taking action to tackle unemployment, which rose to 2.51 million in the three months to July, by creating 300,000 new apprenticeships and rolling out its Work Programme.