Bryony Balen could become youngest skier at south pole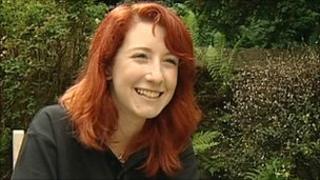 A geography student from Newcastle University is hoping to be the youngest Briton to ski to the south pole.
Bryony Balen, 20, is due to set off in November for a nine-week trek of about 700 miles (1,100 km) enduring temperatures as low as -40C (-40F).
She will ski for eight hours a day pulling a sled with a 60kg bag on her back containing food, equipment and a tent.
Ms Balen will celebrate her 21st birthday en-route to the south pole.
"It's a challenge, it was a big idea and a bit of a dream and if it becomes possible, it would be pretty cool," she said.
Miss Balen has been training for the trek by rock climbing, cycling, rowing and endurance tests such as mountaineering in the Alps and the Russian Caucasus.
While training, she has also been pulling a tractor tyre tied to her back to prepare her for dragging a sled through snow and cold.
'Absolute extreme'
The journey will begin at the edge of the Antarctic landmass at the Hercules Inlet and finish at the south pole.
Being the only female on the expedition, she said she is determined to pull her weight.
"Mentally it's going to be quite hard, you don't have a massive change of scenery. It's pretty much all up-hill and you have winds in your face coming off the continent.
"It's going to be tough to keep going and keep motivated and that's what the teamwork is really for.
"Just knowing you're pushing yourself to the absolute extreme, you're looking to lose up to two stone while you're out there, it's all going to be tough I think."
She added: "I know I won't be able to pull as much as the rest of the team, but I'm hoping I'm not going to let them down.
"They're not amazingly over the moon about the idea, but they trust me, so they know that I've put the work into it and they know I'm going to be as safe as possible."
Norwegian explorer, Roald Amundsen, was the first man to reach the south pole 100 years ago in 1911.
Katie Walter, from Nottinghamshire, became the youngest woman to walk to the south pole in 2010 at the age of 17.