IPCC probe clears Raoul Moat Taser police of misconduct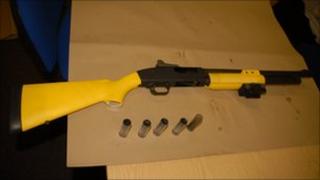 Officers who cornered gunman Raoul Moat and fired a Taser at him before he shot himself have been cleared of wrongdoing by the police watchdog.
The 37-year-old doorman died following a six-hour stand-off with armed officers in Rothbury, Northumberland.
The Independent Police Complaints Commission (IPCC) said there was no evidence that firing a Taser at Moat had triggered him to shoot himself.
It also found police had acted with "humanity" towards Moat.
But the watchdog added the officers should have better recorded Moat's final moments in the early hours of 10 July last year.
Moat had been on the run for a week after shooting his ex-partner, Sam Stobbart, murdering her new boyfriend, Chris Brown, and later blinding PC David Rathband.
'Glancing blow'
The 57-page IPCC report praised officers for "well-thought out" negotiations with the killer and said officers "had wanted to save his life".
IPCC commissioner Nicholas Long said: "It is clear from the evidence that there is no suggestion any discharge from the XREP Tasers caused Moat to inadvertently pull the trigger.
"Moat was struck by one of the XREP Tasers, but this appears to have been a glancing blow which would have had very little effect.
"All the evidence shows a further distinct movement by Moat to raise the shotgun to his head before firing."
At the time of the manhunt the XREP Tasers used were still undergoing tests.
However, the Home Office said police could use them at their discretion in "reasonable and proportionate" circumstances.
Mr Long added: "Any incident of this scale must provide learning for a police force.
"It is clear there was a well-thought out policy of how negotiations were to be conducted with Moat.
"Negotiators worked tirelessly in difficult conditions to try to alter Moat from the path he had chosen to take.
"I know the fact they were not successful in averting a fatal outcome is hugely disappointing and upsetting for them."
'Clear rationale'
The IPCC investigation concentrated on the time Moat was spotted in Rothbury, the police stand-off and when he was pronounced dead the following morning.
It concluded that during such a "fast-moving" operation there was a "clear rationale" for using unauthorised Tasers and the Northumbria force did seek legal advice.
Investigators also said it was not "realistic" to take officers away from the scene to train them in the use of the new weapons.
But the report did criticise the fact that the final moments of Moat's life were recorded with a hand-held recording device.
It said: "Better and more durable equipment should have been used and the fact it wasn't, meant the opportunity to capture vital evidence in the final stages of Moat's life was lost."
Mr Long added: "It is apparent from all the evidence collected in our investigation that the primary objective of the police was to try to preserve Raoul Moat's life.
"I fully recognise that within such a dynamic and fast-moving operation, decisions have to be made that don't always comply with recognised policies and procedures.
"The force believed their intention to use whatever means they had to try to capture Moat alive overrode any questions of authorisation."