Expansion plan for Tyne and Wear Metro network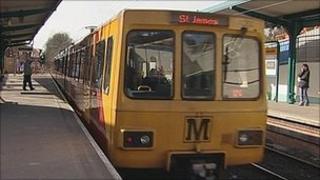 Ambitious plans which could see a massive expansion of the Tyne and Wear Metro network have been unveiled.
The light railway system is already undergoing an £500m revamp of rolling stock, stations and facilities.
Now bosses are looking at a 20-year project which could see the network extend further into Sunderland, North Tyneside and Gateshead.
The UK's first urban light rail network began operating in August 1980 and now boasts 60 stations.
Owner Nexus plans a major public consultation beginning next year, which will be used to develop business plans for up to nine new routes.
Director General Bernard Garner said construction work would not begin for at least a decade and would dependent on funding from the UK Government, the EU and the private sector.
Street trams
Possible new routes include services to Doxford International Business Park in Sunderland, Killingworth in North Tyneside, parts of Washington together with the Team Valley Trading Estate and MetroCentre shopping complex in Gateshead.
Mr Garner said: "It is no surprise that the corridors we have identified are where the main centres of business and population are.
"The process we are in at the moment is vitally important in ensuring Metro is around for generations to come.
"The system we have at the moment is 30 or 40 years old. As we take the next steps forward it is right we look at what technology will be available."
Mr Garner said street trams could be used on some routes instead of traditional light railway carriages.
He said: "We will develop a business case for each of these corridors and if they can show a return that is more benefit than cost, then I'm sure we'll be able to develop the funding to make them happen."