Raoul Moat inquest paints picture of killer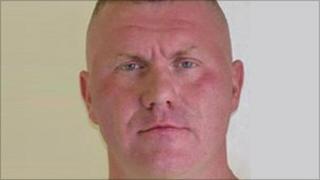 The picture which emerged of Raoul Moat during the inquest was that of a man on the edge.
Letters seized from his home, and the telephone calls and recordings made while on the run gave the jury an insight into his state of mind.
He said he could not live without his girlfriend, he "hated himself", and felt like "King Kong on top of the building".
According to a forensic psychologist, the former doorman was paranoid, suspicious, mistrustful of authority, and blamed others for his misfortune.
The jury was told that in one letter, to his ex-girlfriend Samantha Stobbart, Moat said he could not live without her.
It expressed his love for her and added: "Knowing you hate me is tearing me apart."
A short time before, during a phone call to him in prison where he was serving an 18-week sentence for assaulting a child, she had ended their relationship.
Toys burned
The call was recorded, as is normal practice, and the jury heard Moat warning that he was "going to go crazy" after she told him she wanted him out of her life.
He went on to wound her, kill her new boyfriend and blind a police officer by blasting him in the face.
Later, in a recording made on a portable dictation device, Moat said: "I feel like King Kong when he's right at the top of that building, all messed up, when he's in a real mess.
"I hate myself. I do hate myself. It is a part of me. I'm like the Incredible Hulk.
"It is not anger, it is something completely different. It is just like a wild animal and it's been there all my life."
The jury was told, these feelings could possibly have been the result of a traumatic childhood, in which he was beaten and once saw his mother burn all his toys.
Forensic psychologist John Hughes, who had prepared a psychological assessment based on the letters and recordings, said: "He feels like there is a huge, terrible, angry person in there.
"I did not interpret it to mean in a bigger picture there was any mental illness at that point.
"If you look at his behaviour as a whole there is not the sort of chaotic disorder and failure to plan there would be if he was mentally ill."
One of Moat's notes, to a friend, said: "I'm a killer and a maniac but I ain't a coward.
"I'm not on the run, I will keep killing police until I am dead. They've hunted me for years, now it's my turn."
After a week on the run, during which he was so hungry that at one point he resorted to eating mice, he was cornered by armed officers.
When told to drop his weapon he swore, and shouted "shoot me", the inquest was told.
A negotiator brought in to persuade Moat to give himself up described him as "a broken man".