Kenton School staff strike over academy plans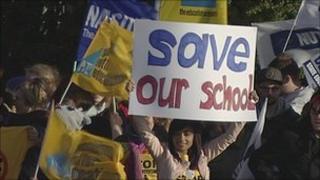 Staff at a Newcastle school are due to begin industrial action later over plans to turn it into an academy.
The first of three planned days of action at Kenton School is set to take place from 08:00 BST.
The head teacher and governors are seeking academy status for the school.
The change to academy status would give governors the freedom to set pay and conditions but unions are concerned it would lead to lower salaries and longer hours.
The ATL, NASUWT and NUT unions said the change would allow governors to end nationally agreed pay and conditions and impose their own.
They said this could mean worse pay and longer hours for most staff and hope the plan will be withdrawn.
David Pearmain, head teacher of Kenton School, said: "There is no threat whatsoever to staff pay and conditions.
"Our governors made a promise and assurance before there was any question of industrial action, that if at any time in the future they were to talk about change in pay and conditions it would only be to improve them above the national standard."
Ian Grayson from the NUT said: "We have seen that across the country terms and conditions in academies have been changed for the worse.
"There would be the potential for teachers' terms and conditions to be changed."
The school is open to years 11, 12 and 13 on Thursday and will provide a free lunch to those who attend.
The two remaining days of planned strike action are set to take place on Tuesday 27 September and Thursday 29 September.