PJ Harvey mix up: Newcastle man mistaken for singer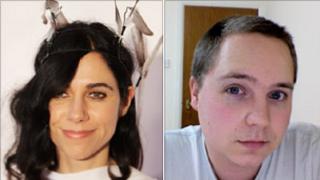 A computer software developer from Newcastle has received thousands of messages of congratulation after being mistaken for the singer-songwriter, PJ Harvey.
Philip John Harvey, from Jesmond, was inundated with messages on the social networking site Twitter after the singer won the Mercury prize at Tuesday night's awards.
Mr Harvey's username on the site is @pjharvey, to which thousands of the singer's fans sent messages such as "Send grats to @pjharvey for her amazing success this evening!"
The first Mr Harvey knew of "his" success was when his phone started alerting him to Twitter messages - and did not stop.
"I was just in my kitchen cooking my dinner when my phone started going off. I have it so it notifies me whenever someone mentions me, which happens quite rarely because I'm just an average guy on Twitter."
When he realised what was happening Mr Harvey tweeted that he was not PJ Harvey, the singer. His new fans did not believe him.
"I wasn't trying to be funny but Twitter thought it was funny and everyone started re-tweeting that message and then it just exploded.
"I had all sorts of nonsense coming through, people accusing me of pretending to be PJ Harvey and I got some quite nasty messages. As well as lots of positive messages."
'Massive nerd'
By the time Mr Harvey went to bed, in the early hours of the morning, he had received over 2,000 messages.
The same number of text and email alerts filled his phone and inbox.
Some tweeters were still convinced Philip John was really Polly Jean but, as the mix-up became clear, the jokes started. One user tweeted: "I shall follow you anyway but I expect an album by this time next year."
Mr Harvey, who describes himself as a "massive nerd" on his Twitter profile, said he was so interested in technology he signed up to the site in 2007, never thinking his username would become significant.
He said he was one of the first half million users: "I'm a bit of a techy, an early adopter of certain technologies.
"I joined Twitter in the really early days when it was really just a bunch of nerds talking to each other about nerdy things.
"I never really thought it would explode into the big popular culture thing it is now, being used by celebrities, it never really crossed my mind."
Phil Harvey has offered to let the singer have his username if Twitter will let him have the defunct @pharvey in return.
PJ Harvey's publicist says the singer does not use Twitter.