Raoul Moat inquest: Girlfriend split 'sparked rampage'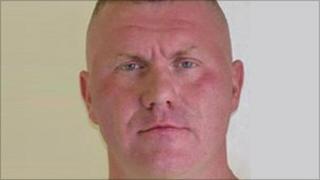 Gunman Raoul Moat's split with his girlfriend led him to commit "murderous acts", an inquest jury has been told.
The jury was played a recording of a phone call in which Moat reacts furiously when Samantha Stobbart tells him their relationship is over.
Moat, 37, was in Durham Prison when the phone conversation took place.
Moat sparked a manhunt in July last year when he shot three people on Tyneside, including Ms Stobbart and her boyfriend Chris Brown, whom he killed.
The inquest at Newcastle Crown Court is expected to last four weeks.
In the phone call, Moat complained that "everybody is getting on my case" and that he was getting "picked on".
The conversation ends with the phone being slammed down abruptly.
Supt Jim Napier, of Northumbria Police, told the inquest: "It is clear from the evidence that Moat's break-up with Samantha Stobbart was the catalyst for his murderous acts."
Mr Napier told the hearing that six letters were found in his house which showed Moat intended to take his own life.
Ammunition and noose
He said: "They appear to have been prepared by Moat and all intimated that he intended to take his own life."
Police also found home-made ammunition and a noose in the loft.
Moat shot his ex-girlfriend and killed Mr Brown in Gateshead on 3 July 2010.
The following day he shot and blinded Pc David Rathband in his patrol car in Newcastle before going on the run.
He died in the Northumberland village of Rothbury after a stand-off with police.
The 11-person jury at Newcastle Crown Court will focus on the period from Moat's containment by police to the moment he was pronounced dead.
Newcastle Coroner David Mitford said an inquest was needed because "Mr Moat met his death when he was effectively detained".
Barristers representing the Moat family, the chief constable of Northumbria Police, West Yorkshire police officers and Pro-Tec Limited, a firm that supplied Taser weapons, were in court.
'Many theories'
Mr Mitford said: "The publicity was so great it would be impossible for anybody not to know what happened, to some extent, in the summer of last year."
However the coroner asked the jurors to try "the impossible" and forget what they had already heard about the Moat case.
"There have been lots of theories and conclusions drawn, some of which may have been accurate, some of which may not," he said.
The inquest is to focus on the events in Rothbury on 9 and 10 July. The jury heard there would be questions about weapons used, how police managed the incident, how officers dealt with the deceased and how he acted.