Consett Civic Centre closes for demolition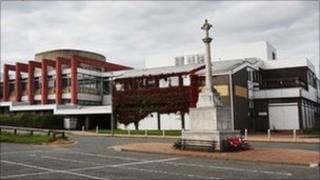 The official closure of Consett's Civic Centre will take place on Thursday.
Earlier this year Durham County Council, which used the building, relocated leaving it redundant.
The 1969 building will be demolished and the site of the civic centre will provide the location for the new Consett Academy.
Flags will be lowered and a plaque will be unveiled. Councillors and staff who have worked at the site will be among the invited guests.
Consett Academy will replace Moorside Community Technology College and Consett Community Sports College.
The £20.7m project, on a site in Belle Vue, had faced opposition from some residents, but it is now hoped that it will open in 2012.
It had been set to cost £31.7m, but government spending cuts enforced the reduction.
The proposal was then amended to fit the reduced budget, with £6m saved through a number of measures including lower relocation costs through retaining an on-site rugby club.