Pig waste used to heat Morpeth farm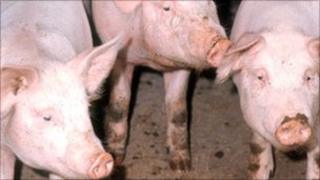 Pigs at a farm in Northumberland will soon be heating their own homes from electricity made from their waste.
Slurry at Cockle Park Farm near Morpeth is being put through a machine called an anaerobic digester which converts it into green energy.
The £1m digester has been installed at the farm as part of a study by Newcastle University to find new ways to produce renewable energy from waste.
Farm slurry is usually disposed of by spreading on land as fertiliser.
Using the new machine, dung from 120 pigs will be digested by bacteria producing methane gas which will be used to power a turbine.
Project leader, Dr Paul Bilsborrow, of the university's School of Agriculture, Food and Rural Development, said: "Anaerobic digestion offers huge potential in terms of utilizing the methane from animal waste and converting it into renewable energy.
"By working together with the agricultural industry we hope to develop new ways of making anaerobic digestion a viable process for uptake by farms across the UK."
The project is being jointly funded by the University and One North East.
In June of this year the government released its Anaerobic Digestion Strategy and Action Plan for England to try to encourage the production of energy from waste.