Teachers strike at Whickham School and Sports College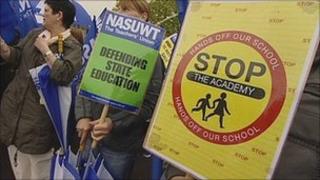 A Tyneside school has been forced to close after teachers walked out over plans to turn it into an academy.
More than 100 members of the NASUWT union are angry at plans which could see Whickham School and Sports College leave local authority control.
The union claims the move will have an adverse effect on the pay, conditions and pensions of teaching staff.
The school said it regretted the action, adding it would gain about £750,000 a year from being an academy.
Union spokesman Graham Dawson said: "This is already an excellent school with an excellent set of teachers producing really good results.
'Deeply disappointed'
"We have not had a proper consultation over this and it has all been rushed through.
"As well as concerns over pay and conditions there is also a moral argument about academies taking resources away from the local authority, which then has fewer resources for other state schools."
Head teacher of the 1,650-pupil secondary school, Steve Haigh, said: "We are deeply disappointed that this action has forced us to close the school.
"Converting to an academy will actually mean more cash and more staff.
"Job security will be better and we want to keep pay and conditions because we want to attract the best staff possible and retain those we already have.
"We have given all the assurances we can and have agreed to everything that has been asked for."
The union said it would continue to resist academy plans and has not ruled out further action.